The Week on Wall Street
Stocks struggled during a 4-day market week as the U.S.-China trade standoff continued to weigh on the minds of market participants. From the Friday, May 24 close to the Friday, May 31 close, the S&P 500 retreated 2.62%; the Nasdaq Composite, 2.41%; the Dow Jones Industrial Average, 3.01%. The MSCI EAFE index of overseas stocks dipped just 1.47% in a week.[i],[ii]
Trade is dominating the conversation in the financial markets, with developments steadily unfolding. Wednesday, China's state media suggested that the country could soon cut off exports of rare earths to the U.S. Late Thursday, the Trump administration announced 5% tariffs on all imports from Mexico, effective June 10; these taxes could rise in the coming months.[iii],[iv]
Meanwhile, on Main Street…
The Conference Board's consumer confidence index soared to 134.1 in May, its highest reading since November; the consumer view of present economic conditions was the best since the end of 2000. Additionally, the University of Michigan's consumer sentiment index ended May at 100.00, near the 15-year peak of 102.4 seen earlier in the month.[v],[vi]
Spring also brought a solid advance in consumer spending. April's gain was 0.3%, according to the Bureau of Economic Analysis.[vii]
Final Thought
While Wall Street remains cautious and concerned about trade, consumers appear to be upbeat, sensing widespread economic prosperity. This underscores the fact that the state of the economy does not necessarily correspond to the state of the stock market (and vice versa).
THE WEEK AHEAD: KEY ECONOMIC DATA
Monday: The Institute for Supply Management releases its latest factory purchasing manager index, which takes the pulse of the U.S. manufacturing sector.
Tuesday: Federal Reserve Chairman Jerome Powell speaks on monetary policy at the Federal Reserve Bank of Chicago.
Wednesday: Payroll giant ADP releases its May private-sector employment snapshot.
Friday: The Department of Labor presents its May employment report.
Source: Econoday / MarketWatch Calendar, May 31, 2019
The Econoday and MarketWatch economic calendars list upcoming U.S. economic data releases (including key economic indicators), Federal Reserve policy meetings, and speaking engagements of Federal Reserve officials. The content is developed from sources believed to be providing accurate information. The forecasts or forward-looking statements are based on assumptions and may not materialize. The forecasts also are subject to revision.
THE WEEK AHEAD: COMPANIES REPORTING EARNINGS
Tuesday: Cracker Barrel Old Country Store (CBRL), Salesforce (CRM)
Thursday: Beyond Meat (BYND), J.M. Smucker (SJM)
Source: Morningstar.com, May 31, 2019
Companies mentioned are for informational purposes only. It should not be considered a solicitation for the purchase or sale of the securities. Any investment should be consistent with your objectives, time frame and risk tolerance. The return and principal value of investments will fluctuate as market conditions change. When sold, investments may be worth more or less than their original cost. Companies may reschedule when they report earnings without notice.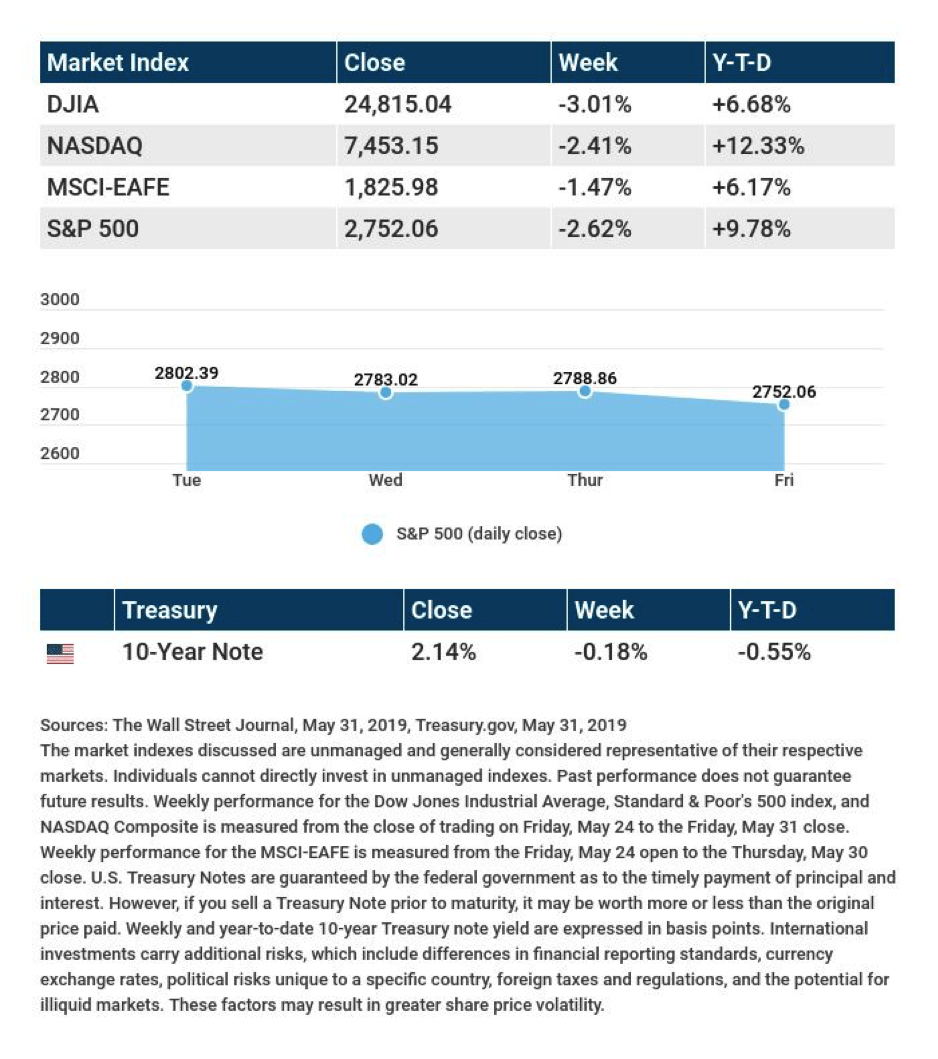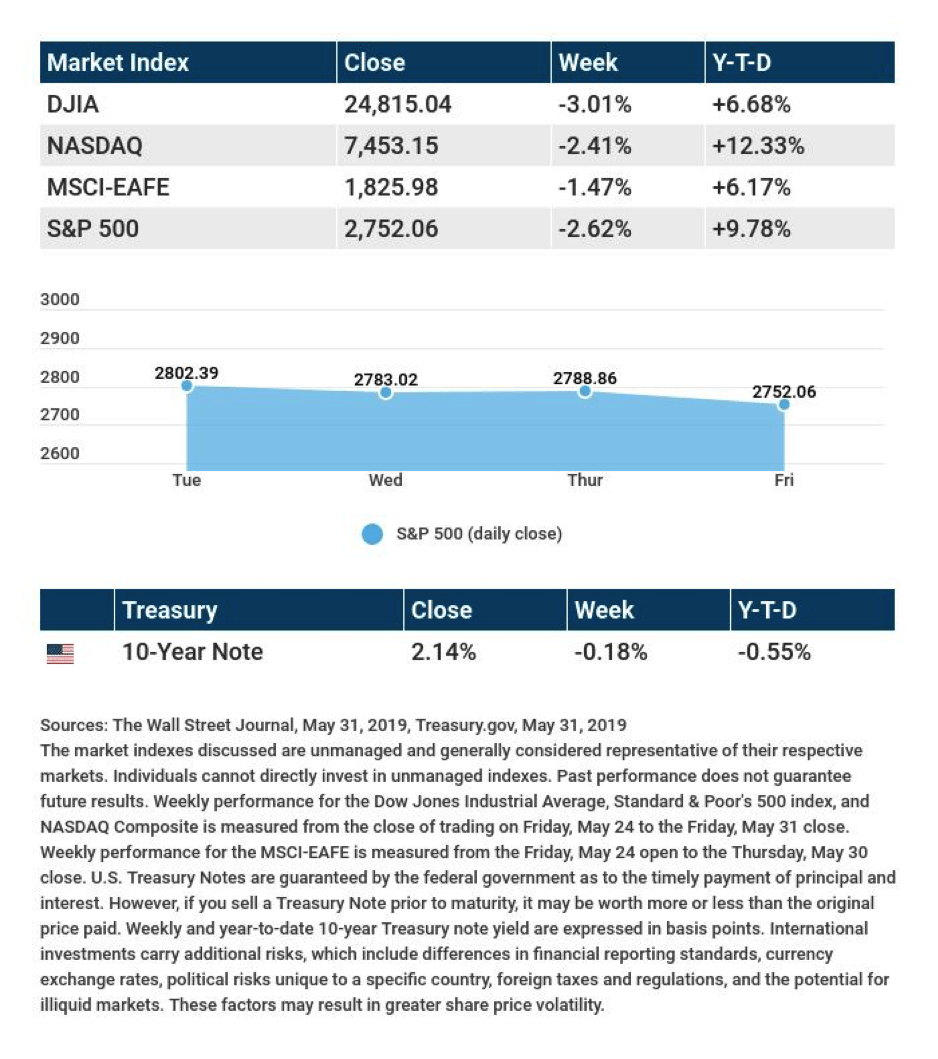 ---
Investing involves risk including the potential loss of principal. No investment strategy can guarantee a profit or protect against loss in periods of declining values.
Diversification does not guarantee profit nor is it guaranteed to protect assets.
International investing involves special risks such as currency fluctuation and political instability and may not be suitable for all investors.
The Standard & Poor's 500 (S&P 500) is an unmanaged group of securities considered to be representative of the stock market in general.
The Dow Jones Industrial Average is a price-weighted average of 30 significant stocks traded on the New York Stock Exchange and the NASDAQ. The DJIA was invented by Charles Dow back in 1896.
The Nasdaq Composite is an index of the common stocks and similar securities listed on the NASDAQ stock market and is considered a broad indicator of the performance of stocks of technology companies and growth companies.
The MSCI EAFE Index was created by Morgan Stanley Capital International (MSCI) that serves as a benchmark of the performance in major international equity markets as represented by 21 major MSCI indices from Europe, Australia, and Southeast Asia.
The 10-year Treasury Note represents debt owed by the United States Treasury to the public. Since the U.S. Government is seen as a risk-COMPLIMENTARY borrower, investors use the 10-year Treasury Note as a benchmark for the long-term bond market.
Opinions expressed are subject to change without notice and are not intended as investment advice or to predict future performance.
Past performance does not guarantee future results.
You cannot invest directly in an index.
Consult your financial professional before making any investment decision.
Fixed income investments are subject to various risks including changes in interest rates, credit quality, inflation risk, market valuations, prepayments, corporate events, tax ramifications and other factors.
These are the views of Platinum Advisor Strategies, LLC, and not necessarily those of the named representative,
Broker dealer or Investment Advisor and should not be construed as investment advice. Neither the named representative nor the named Broker dealer or Investment Advisor gives tax or legal advice. All information is believed to be from reliable sources; however, we make no representation as to its completeness or accuracy. Please consult your financial advisor for further information.
By clicking on these links, you will leave our server, as the links are located on another server. We have not independently verified the information available through this link. The link is provided to you as a matter of interest. Please click on the links below to leave and proceed to the selected site.
[i] https://www.wsj.com/market-data
[ii] https://quotes.wsj.com/index/XX/990300/historical-prices
[iii] https://apnews.com/af8ed9e6b95f4d14b32e6e0135949159
[iv] https://www.foxbusiness.com/markets/us-stocks-wall-street-may-31-2019
[v] https://www.bloomberg.com/news/articles/2019-05-28/u-s-consumer-confidence-tops-forecasts-rises-to-six-month-high
[vi] https://www.investing.com/economic-calendar
[vii] https://www.investing.com/economic-calendar